by Downunder Horsemanship
Shop Now, Pay Later at Walkabout Tours
A month ago, we introduced Sezzle to our online store. Now, we're making the popular payment platform available at Walkabout Tours, starting with our November 19th and 20th stop at the Jacksonville Equestrian Center in Florida. With Sezzle, you can split your entire purchase into four interest-free payments, over a six-week period with no impact to your credit. You'll pay 25% at the register when you check out, 25% two weeks later, 25% four weeks later, and the final 25% six weeks later.
Sezzle is available on purchases that total $35 and up and excludes No Worries Club memberships and gift cards. At tours, you'll use the Sezzle app to complete your purchase. If you plan to use Sezzle, be prepared by having the app downloaded to your mobile device and set up using the instructions below.
1) Download the Sezzle app from the App Store or Google Play.

2) Open the app and then click on "Sezzle Card" in the lower navigation bar.

3) Activate your Virtual Card and add it to your mobile wallet.

4) Open your mobile wallet and "Tap-to-Pay" at the payment terminal.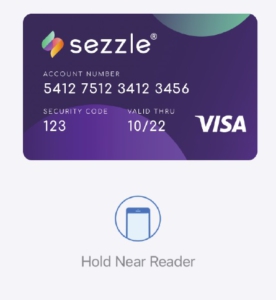 Learn more about Sezzle on our website.