Trained With The Method®
Whether you're looking to build your confidence with a safe, dependable and exceptionally well-trained horse that knows Clinton's method; enjoy a greater level of communication and fun with your horse; or achieve an in-depth understanding of the Downunder Horsemanship Method that you can take with you to excel in any discipline and with any type of horse, Clinton provides you with a once-in-a-lifetime opportunity to find that horse of your dreams.
Clinton knows how important it is for you to have the very best experience possible with your horse. That's why he is personally involved in the selection, training and sale of each and every Signature Horse. Making sure that you and your horse are the perfect match for each other is just another part of what puts Clinton's personal stamp of approval on every Signature Horse sale.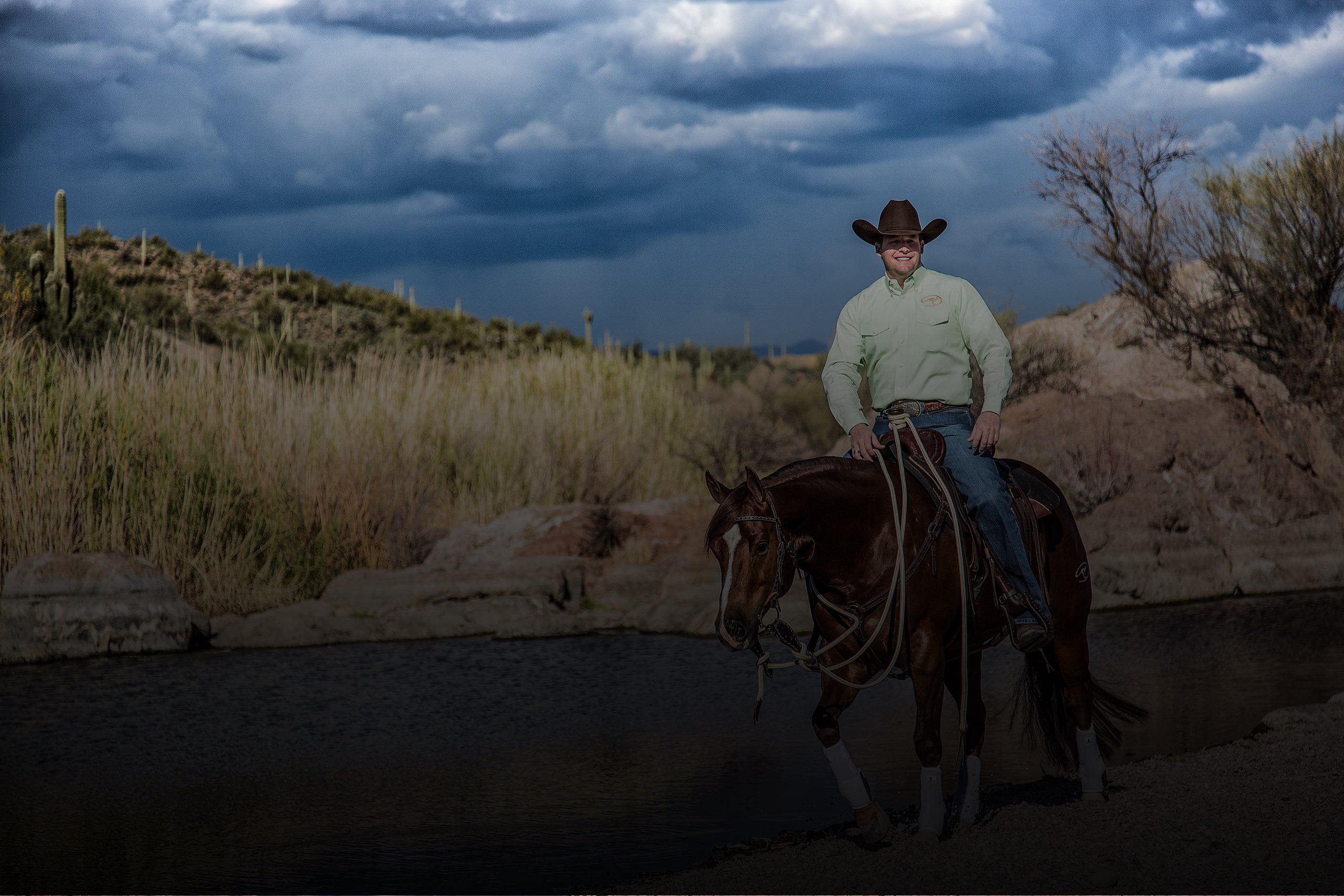 THE EQUINE PARTNER YOU'VE ALWAYS DREAMED OF
Priced at $30,000 each, a Clinton Anderson Signature Horse has been hand-selected by Clinton himself and personally trained by his clinicians. Producing a result that is far beyond customary horse training, these amazing horses are well-versed in the Method® and exceptionally well-trained to offer you dependability, safety and the opportunity to accelerate your horsemanship with ease unlike you have ever imagined. Purchasing a Clinton Anderson Signature Horse will place you among an elite group of horse owners with an outstanding equine partner that will be the envy of all your friends.
A HORSE THAT WILL TEACH YOU
Clinton is a firm believer that horses teach people and then people teach horses – in that order. That's why it's so important to start your horsemanship journey on a well-trained horse that you can learn from as you build your confidence. With in-depth knowledge of the Method, a Signature Horse is the perfect beginner horse. Safe, respectful and attentive to your needs, these amazing horses will provide you with a fun and fulfilling learning experience. Then, as your confidence and horsemanship skills develop, your Signature Horse will be there and ready to accelerate your learning in ways you have never imagined. Unlike other "beginner horses," you'll never outgrow a Clinton Anderson Signature Horse. With the solid foundation that the Method® provides both horse and rider, you will be able to achieve with this outstanding equine partner the highest levels of horsemanship in any discipline or activity you choose. Reaching your goals has never been this easy!
Signature Horse Specifications
TYPICAL SIZE
Between 14 and 15 hands
AGE
Between 3 and 8 years old

Why Quarter Horses?
Almost all Signature Horses are Quarter Horses. As a breed, Quarter Horses aren't known for being tall or massively built horses like a Thoroughbred or Warmblood. Clinton only selects horses with strong bones and great conformation. Most people think that a bigger horse is better, but in reality that's not true. In fact, Clinton personally prefers smaller horses because it's easier to get on and off of them and work around them in general. In fact, his motto is: It takes a great big horse to beat a good little one. A testament to that motto is Clinton's mare, Mindy. At 14.1 hands, Mindy carried Clinton (5'11") around for over 17 years without a problem, and Clinton didn't look out of proportion on her.

Mares vs. Geldings
It has long been thought that geldings make better trail riding horses than mares, but nothing could be further from the truth. How well a horse rides and performs on the trail really depends on the individual horse. Sure, some geldings are better than some mares, and some mares are better than some geldings. Clinton carefully selects his Signature Horses, puts them through his entire method and weeds out horses that aren't suitable, including horses with less than desirable dispositions or unwilling attitudes. Regardless of whether a Signature Horse is a mare or gelding, they all have the same pleasing disposition, willing attitudes and in-depth training. A gelding is not better than a mare, and a mare is not better than a gelding. In fact, by the time Clinton gives the Signature Horse his stamp of approval, you won't be able to tell what sex the horse is; you'll just have an unbelievably well-trained horse. If you are insistent about getting a gelding, please understand that it will take considerably longer for one to become available because more people prefer geldings over mares. Clinton personally prefers mares, and feels that a lot of great Signature Horse mares are getting looked over because people are being shortsighted.
Clinton's Personal Guarantee
30-day, no-questions-asked, money-back guarantee.
Not only does Clinton personally guarantee his Signature Horses with a 30-day, no-questions-asked, money-back guarantee; he is personally involved in the selection process. With his years of experience helping thousands of horse owners train and improve their relationship with their horses, Clinton prides himself on using his insight to help people pick out the right horse. Not only does he have an eye for choosing quality horses, but he also has a practiced ability to match horses with people.
Then, when you arrive to pick up your Clinton Anderson Signature Horse, Clinton and/or his clinicians will spend the whole day with you, helping you get to know your horse and providing you with personal hands-on training – a $2,000 value! – designed to get your relationship with your new Signature Horse off to a perfect start. After this private training session with your horse, Clinton asks that you take your new partner for a ride – either on the trails at Clinton's ranch or trailer him to a new location – to be sure of your compatibility. This "test drive" will also give you a chance to see how well your Signature Horse handles a new environment and negotiates obstacles on trails.
But that's not all. When you buy a horse from most sellers, once you write the check you own the horse, good or bad. This is not the case when you buy a Clinton Anderson Signature Horse. Clinton's commitment to standing behind his products extends without question to his Signature Horses.
By providing a 30-day trial period after you take your horse home, Clinton will make absolutely certain that you are more than pleased with your new equine partner. At the end of this period, he'll even give you a call personally to check on you and your horse! If for any reason you seem to be unsatisfied with your Signature Horse, Clinton will give you your money back – no questions asked. Clinton's personal guarantee also includes lifetime support from his clinicians any time you have questions or concerns about your horse.
Clinton believes that developing a relationship with your horse shouldn't be rushed, and he encourages prospective Signature Horse buyers to take plenty of time to decide whether a Signature Horse is right for you. He and his clinicians are available to answer your questions and provide you with the best possible horse buying experience. While there is no pressure or rush about making the decision to buy a Clinton Anderson Signature Horse, there is a limited number of these amazing horses available each year, and our waiting list fills up fast, so if you think you may be interested in owning one of these horses sometime in the future, please give us a call now to reserve the opportunity to explore the idea further.
Signature Horse Frequently Asked Questions