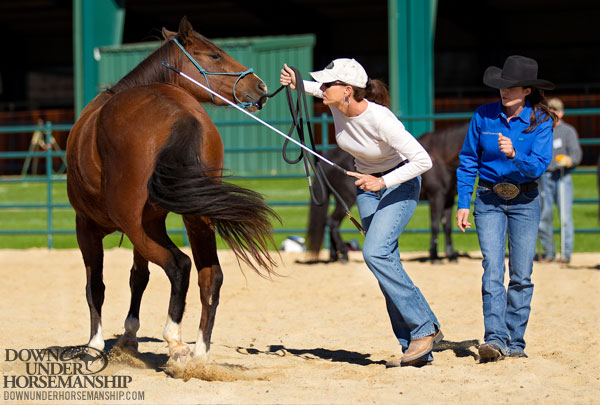 Clinician
by Developer Services
Shana Terry Available for Fundamentals, Intermediate and Advanced Training in the Method
Professional Clinician Shana Terry wants to help you perfect the Intermediate and Advanced levels of the Method. The 17-year veteran of the Method is now booking private lessons to fill up her 2015 calendar. Aside from Clinton, nobody knows the Method as well as Shana, and even Clinton admits that in some areas the Professional Clinician has him beat. Shana is available to instruct private lessons that cover the Fundamentals, Intermediate and Advanced levels of the Method. Private lessons may be held at your barn or at the Downunder Horsemanship Ranch, where you can utilize Clinton's obstacle course and all the amenities the ranch has to offer. Learn more about Shana on her website.
What You Need to Know:
Participants: Up to six people may participate in a private lesson that will be tailored to your specific needs and horsemanship goals.
Cost: $1,250/per day for a minimum of three days. (If your lesson has six participants, you'll each be responsible for paying $625 for three full days of instruction.) In addition, the host will be responsible for all of Shana's travel expenses, meals and lodging. Of course, if the lesson is held at the ranch, there will be no additional expenses.
Schedule: To schedule a private lesson, contact Shana directly at [email protected] or 888-287-7432, ext. 8118.