by Downunder Horsemanship
Find Downunder Horsemanship Clinics and Lessons in Your Area
Our Professional Clinicians and Method Ambassadors routinely teach horsemanship clinics and lessons. While some events are private, many clinics are open to public participants and welcome spectators. To make it easier to find horsemanship events taking place in your area, we've added a map with event locations to the "schedule" page on the clinician website. Now, along with listing upcoming events by date, you have the option of seeing the events laid out by location.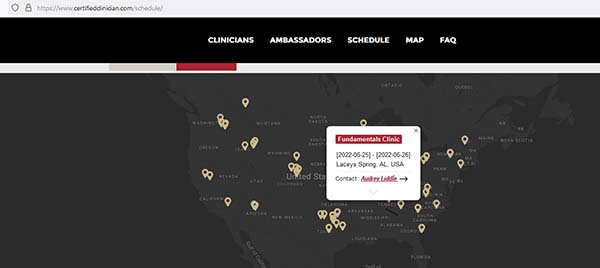 Simply click on the map markers to learn more about each event. If you're interested in attending an event, click the contact link with the clinician or ambassador's name to get in touch with them for more information.
To set up a lesson or clinic with a clinician or ambassador, contact them directly. Our Professional Clinicians are certified to teach all levels of the Method while our Method Ambassadors focus on the Fundamentals level of the Method.